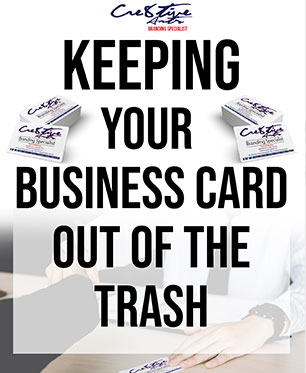 Before the launching of our website our main source of communication with the virtual world other than email and smart phones has been through social media.  In this evolving technology savvy world, we have to find ways to also be eco-friendly.  Although printing business cards can be convenient (at least when it actually happens), we can all find ways to minimize our carbon foot print, be effective and techie all at once.  On one of our October social media posts we shared a tip that sparked the interest of followers.

Tip:  Keep your business cards out of the trash.
How? Get information on their phones.  Consider making a digital card and share it with others.
We encouraged our audience to use technology to their advantage and cre8te a digital business card. Although knowing it will spark some conversations we never returned with the scoop.  What our Team sometimes do is save a digital version of our business card on our smart phones and find means to share it with others.  The rule is, never put yourself in a position to say "I do not have a card."  We recommend saving pertinent photos in special albums on your devices to avoid lengthy searches.  Yes, you can snap a photo of your business card and save it in a special album.
Another easy and FREE idea is downloading an app that can facilitate having a digital business card. An app that is no stranger to our Team is Haystack Business Cards (Stylish and Smart Digital Cards).   There are many other apps and tools available but what you will appreciate about Haystack is the availability to share your digital card using a QR code.
Try the app and let us know how it works.  In the meantime, you can scan one of our Team Member's QR code.